It really is the most wonderful time of the year, spirits are high, loved ones are close and food is plentiful. If you look a little deeper, past those twinkly lights and mince pies, there's actually a shed load of behind-the-scenes work that goes into the nation's favourite holiday. There's the decorations, advent prep, family parties, work parties, parties with friends, parties with the kids, cooking the perfect roast and most stressful of all- the present buying. This is absolutely the last thing you need dampening your holiday spirit, besides the fact that there's only so many pairs of socks and bottles of wine you can give to that distant relative you never speak to, you have only just survived the Black Friday madness so why oh why do you need to do more shopping?!
The simple solution here is to simply make your own gifts. Before you click off this blog, haunted with distant memories of your the sticky arts and crafts classes at school, just hear me out. You do not need any skill level for these ideas, I would have named this blog 'How To Cheat On Christmas' but for fear of the naughty list and my uncontrollable need to be the most (irritatingly) festive person in any room.
These 10 D.I.Y Christmas gifts are all super easy, will not rinse your bank account and most importantly- are guaranteed to be appreciated when given to said 'non-Scrooge' like recipient.
1) Peppermint Milk Bath
We recommend gifting your Peppermint Milk Bath in our gorgeous
Christmas 'Milk Bottles'
with a little red ribbon and maybe a candy cane!
2) Honey & Cinnamon Roasted Cashews
Is there anything more festive (and German) than a honey roasted nut? These Honey & Cinnamon Roasted Cashews are sure to be a hit with pretty much anybody, make a big batch and simpely pop them into one of our
Mini Kilner Vintage Preserve Jars
and you're good to go. Click here for the
recipe
.
3) Drawer Sachets
Is there anything more festive than the smell of cinnamon, apples or gingerbread? I think not, so why not give your loved ones the gift of festive scent! These little drawer sachets will have their clothes smelling of all things Christmas in no time, and they are so easy to make. Check out the instructions here.
4) Milk & Honey Soap
Milk and honey soap has always been one of our favorites here at Silver Mushroom. It smells divine, and there are loads of skin benefits from the honey – it's moisturizing, clarifying, soothing, and also naturally antibacterial. Because of these properties, honey is fantastic for the treatment of acne and aging and for general complexion brightening. Who doesn't fancy a little bit of anti-aging and complexion brightening, right? This DIY method takes less than 10 minutes.
View the method here.
5) Homemade Marshmallows
These are 100% on my to-do Christmas list this year, they make a thoughtful little holiday gift and if you're making batches you can mix up the flavours. A personal favourite in our office is to dip the marshmallows in chocolate and let it set, this makes a gorgeous addition to hot chocolate and Christmassy coffee's! Why not whip up a selection and pop them into one of our Universal storage jars for a stylish and fresh way to give them away, available here!
Check out the Marshmallow recipe here!
6) Christmas Cookie Mix Jar
Most of us love to bake especially at Christmas, however, who wants the laborious task of buying and weighing all those ingredients; it's messy, you always end up with left over bits of ingredients and it's just boring! Save your loved ones the hassle and gift them the joy of baking, with all the fun and none of the fuss.
Simply layer up your favourite recipe in one of our Kilner Twist Top Jars and tie it up with your favourite ribbon. Check out the different recipes, this is our favourite- click here.
7) Homemade Christmas Butter's
Butter is brilliant all year round, fact; but at Christmas it is something else. Butter on veg, butter on potatoes, butter on your fruit loaf, buttery biscuit bases.. you get the picture. Just think how delicious a knob of Cranberry-Butter would be on your turkey, or a herb infused blob on your roast potatoes? This is one gift they'll be sure to love and it's so easy. Check out these recipes- click here.
8) Homemade Milk & Cookie's Fudge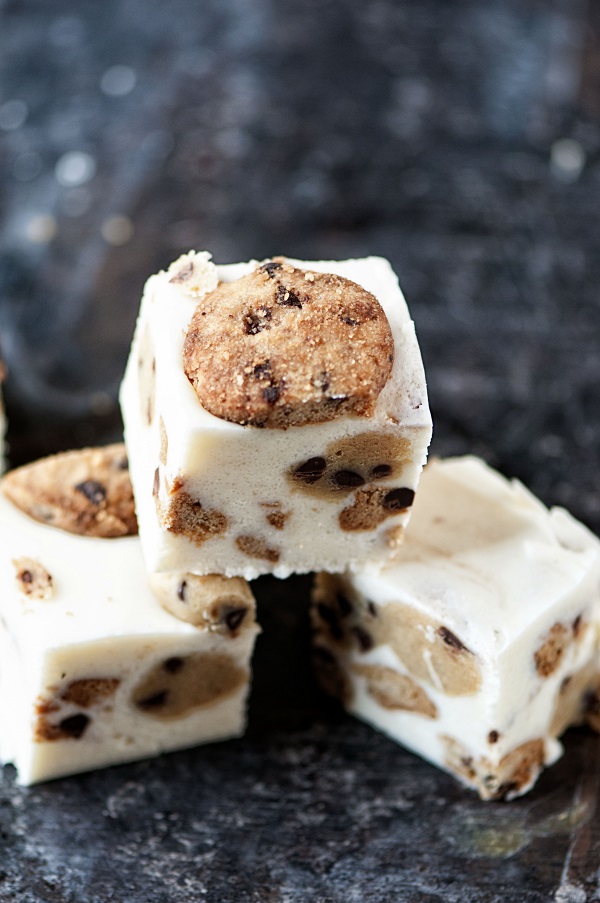 This fudge is a quirky twist on the classic treat of milk and cookies. It looks super chic and expensive when you chop it up and makes a lovely gift, just be careful to make a little more than you need as you will end up eating half a little. We think they look best when served in one of our Kilner Clip Top Jars (shop here) but hey, that's just our opinion. Get the recipe here.
9) Anything "Arm-Knitted"
Disclaimer: we may have told a little white lie when we said that each of these 10 DIY Gift ideas was super 'easy', this concept is not the easiest but it is by far the most effective. We recommend saving this one for those really special people who you'd usually get the best possible gift, it might take you a few hours but hey, who can't spare that for their special someone. "Arm-Knitting" is actually a very simple process, it's simply knitting but instead of using knitting-needles you use your arms or very thick needles in place of them. We recommend starting small, maybe a scarf or Tea Cosy, before you dive in and make that chunky blanket, but be patient and you'll get there.
We found a great website that actually sells step by step kits to create your own arm-knitt's, they also sell all sorts of different wool options, we recommend 100% Marino Wool, as this is the softest! Check out the Wool Couture Company here.
10) Classic Homemade Christmas Chutney
There's nothing better than a little chutney on your cheese and crackers, and everything is better when it's homemade-fact. This recipe is from the Queen her self, Nigella, and it is simply lovely, is just so full of Christmassiness, crammed as it is with dates, cranberries and clementines, and spiced with cloves and cinnamon. View the recipe here. Another personal favourite is this Spiced Pear & Walnut Chutney, view recipe here.
We will be serving this in our brand new Kilner Preserve Jars, super cute, in the style of a strawberry, orange and tomato- they really make this homemade chutney a DIY Gift they're sure to love!
---
So, there you have it, our top 10 favourite DIY Christmas Gifts people actually want. Why not make a few of these ideas and pop them into a hamper basket, voila, a homemade hamper they're sure to love! Here's an affordable basket that looks the part- shop Baskets here.
If you make any of these ideas, we'd love to see your creations, let us know how you get on by tagging us on any of our social media!
Merry Christmas x