Here at Silver Mushroom we love the Great British Summer…
You may remember our previous blog The Top 8 Picnic Spots in the U.K, so now you know where to take your picnic basket this Summer!
But what about those days out to the UK's most beautiful towns and cities?
Fear not…we've given blood, sweat and tears to help you decide where to take the family this Summer!
10. Ramsbottom
Situated on the East Lancs Railway, this picturesque market town is the perfect place for a Summer day out.
Take the kids for a ride on the steam train and visit the neighbouring towns of Rawtenstall, Bury and Heywood.
Why not indulge in one of the many restaurants that Ramsbottom has to offer? Or go for a mooch round the shops and boutiques that adorn the high street.
After a pint? There are an abundance of pubs and wine bars that cater to everybodies taste
If you're after more of a challenge then grab your hiking boots and climb Holcombe Hill to Peel Tower, where you will find a unrivalled view over Greater Manchester!
Our Foodie's Top Pick: Hearth of the Ram
9. Skipton
Described as the gateway to the Yorkshire Dales, Skipton has so much to offer for a day of Summer fun!
Visit the magnificent Skipton Castle and immerse yourself in 900 years of history, look out for the Yew tree in the courtyard, it's nearly 400 years old!
Take a boat trip down the Leeds-Liverpool canal or take a walk around Aireville Park, which hosts 20 acres of beautiful, rolling scenery.
Mooch around Skipton Market, dating back to medieval times, the Best Small Outdoor Market 2017 is sure to be a highlight of your day out.
Hungry? There are many fantastic restaurants to choose from, from traditional pubs, fine dining and award-winning fish & chips!
Our Foodie's Top Pick: The Tempest Arms
8. Bath
Situated on the edge of the Cotswolds, this beautiful city is named after the natural hot springs that gave rise to the Roman-built baths.
Relax and unwind in the open-air rooftop pool of the Thermae Bath Spa with unrivaled views of the city or relive the life of Jane Austen at the Jane Austen Center.
Or if you want to travel further afield, why not visit the mysterious Stonehenge? One of Britain's most iconic sites.
Bath truly is the last word for food and drink, with a vast array of bars and restaurants, that include some of the finest Michelin star establishments in the country.
Our Foodie's Top Pick: Menu Gordon Jones
7. Tynemouth
Situated 25 minutes from Newcastle this beautiful seaside resort has certainly not suffered the same dilapidation as many others of its kind.
The high street is adorned with upmarket bars, restaurants and boutique shops which means that you can eat, drink and shop to your heart's content.
Explore the ruins of Tynemouth Castle, sitting on the rocky precipices overlooking the pier and the treacherous North Sea, or take a walk down into King Edward's Bay and sample the beach bar's famous fish cakes.
Our Foodie's Top Pick: Riley's Fish Shack
6. Tenby
Quite possibly some of Europe's most beautiful beaches are situated in this hidden gem of Pembrokeshire, so why not take an evening stroll along the sands?
Or if you don't fancy getting sand between your toes, take a ride around town in a horse-drawn carriage, it's the best way to see the sights!
If you're hungry and fancy some seafood, then look no further! Unsurprisingly, Tenby offers some of the finest seafood you could hope to find, or if you'd rather have a beverage or two then you will have no trouble finding one of Tenby's many pubs.
Our Foodie's Top Pick:
5. Stamford
Once described as "the finest stone town in England" Stamford has over 600 listed buildings…Wow! Situated only 90 miles north of London, this idyllic town has a number of independent, boutique shops to browse in.
It's no surprise that Stamford has been the backdrop to many of your favourite films and television programs, such as; Pride and Prejudice, The Da Vinci Code and Middlemarch, due to it's magnificent Victorian water features and beautiful Georgian stone.
Peruse round the Art Center or go for a pint of real ale at the All Saint's Brewery, or if you go on a Friday why not check out the market on Broad Street?
Again, there's plenty of lovely restaurants so don't worry about going hungry!
Our Foodie's Top Pick: Mama Liz's
4. Whitby
Often described in the jewel in the crown of North Yorkshire, this quaint fishing town is an area of breathtakingly natural beauty. There are beaches, steep cliffs and rolling fields so whether you're looking for paddling or hiking, Whitby is the place to go.
Take a hike up to the Whitby Abbey, situated on the East Cliff Headland it offers amazing views over the town and the North Sea!
Peckish? Whitby has some of the best fish and chip shops in the country, but get there early because people are often queued out of the door! Or if you fancy something a bit posher, then there are lots of restaurants offering fantastic seafood!
Our Foodie's Top Pick: The White Horse and Griffin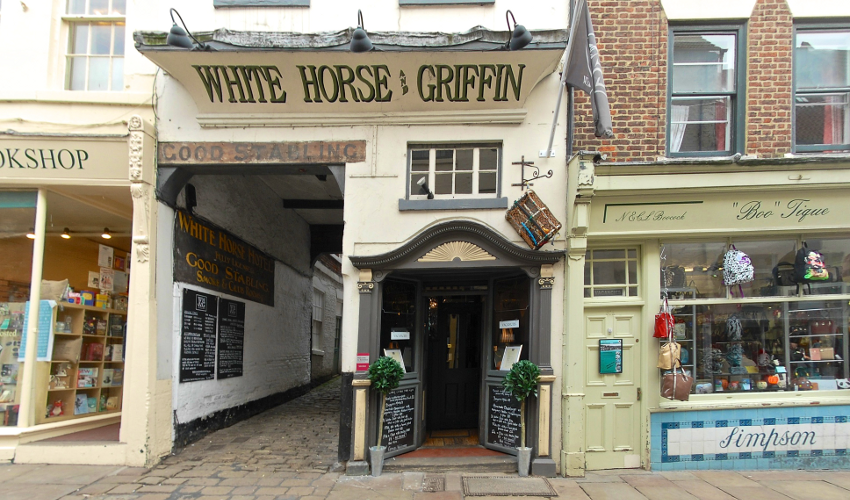 3. St. Andrews
This historic university town is without a doubt one of the most idyllic towns in Scotland. The university, which was founded over 600 years ago, is the centerpiece of a town that is steeped in tradition.
There's a castle, a cathedral, a couple of chapels and an abundance of museums that will undoubtedly cater to everyone's taste.
St. Andrews is also incredibly famous for its golf, so if you fancy yourself as a bit of a Rory McIlroy, why not go for a round? Failing that, you can walk in the footsteps of the greats by taking a guided tour around the Old Course.
Being a seaside town, it's no surprise that you can find some of Scotland's best seafood here!
Our Foodie's Top Pick: The Seafood Ristorante
2. Bourton-on-the-Water
Often described as the 'Venice of the Cotswolds,' this picturesque village is situated on the River Windrush in the heart of the Cotswolds.
Not just a pretty face, this village has much to offer, including a brewery, a motor museum, a model village and a park that contains over 500 birds.
If you fancy a cup of Darjeeling, there are plenty of cafes and tea rooms to quench your thirst! Or if you'd prefer a fine dining experience there are a good few fantastic restaurants in and around the village itself.
Our Foodie's Top Pick: L'anatra Italian Kitchen.
1. Padstow
This charming Cornwall fishing village is famous for its sandy beaches and rocky coastline, but more so because it's home to Rick Stein's incredible restaurant, The Seafood Restaurant. Unsurprisingly, this venue boast the most fantastic example of seafood you could possibly hope to find.
Learn to surf, look for crabs in the rock pools or take a relaxing walk along one of the five beautiful sandy beaches.
Browse through the museums and learn about the towns rich coastal history or take a ferry across to the island of Rock where you can find some unbelievable walking routes offering unrivaled views.
Why not finish with an evening stroll around the port and then head into one of the bars or restaurants for a beverage or a bite to eat?
Our Foodie's Top Pick: The Seafood Restaurant