Halloween, this controversial holiday has come around once again. Love it or hate it, you cant deny its rapidly increasing popularity. There are many versions of the origins and unusual customs associated with Halloween, some remain consistent across all accounts, others not so much. The culture of Halloween began back with the Druids, a Celtic culture in Europe. They honoured the dead with rituals and ceremonies on October 31st, the Celts actually believed that the souls of the dead roamed the streets and villages at night. These spirits were not all thought to be friendly and so gifts and treats were left out in order to calm the evil and keep the public safe, this has since evolved into trick-or-treating.
If you're planning a Halloween bash this year then we've got you covered. This collection of recipes and ideas will have your guests shaking in their boots as they make their third trip to the buffet table.
I stumbled across this recipe by accident whilst looking for a now seemingly mundane Halloween cupcake recipe. This desert table idea is so simple, I was actually frustrated that I'd never thought to create this before. It's perfect for displaying a selection of terrifying treats to your guests or a great Halloween activity for you to make with all the family. The best thing about this display table is how completely customisable it is. All you need is an anatomical skeleton, real or fake the choice is yours, and a selection of your favourite baked goods and treats. For example, you could fill your skeleton with any of the following: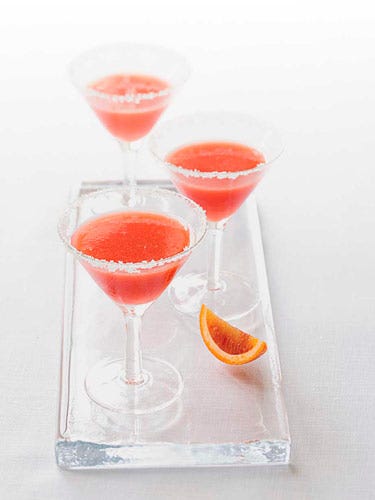 Blood Orange Margaritas
">
A party isn't a party without a cocktail or two, right? This spooky concoction is just what you need to get your guests spinning. Plus this flavorful citrus fruit adds a dramatic ruby red color to recipes both sweet and savory. Blood oranges are slightly less acidic than regular oranges, they contain 120 percent of the recommended daily amount of vitamin C, 12 percent of the amount of fiber, and also potassium, calcium, and vitamin A.. doesn't sound too shabby to us!
Why not make and serve this cocktail in one of our Kilner Dispensers? They're perfect for serving as the tap design stops spillages and if we're being honest, they just look great!
What you'll need:
Method:
Moisten rim of 2 margarita glasses and dip in kosher salt
Fill a cocktail shaker with crushed ice. Add orange juice, tequila, and triple sec. Shake well and strain into dispenser.
Pour into cocktail glasses as and when you want a drink.
Garnish with orange wedges, if desired.
3. Deadly Decor
A party just isn't a party without a themed decoration or 10. We love this idea as it's so simple yet incredibly effective. These Mummy jars are perfect for parties, nestled on windowsills for curious trick or treaters and passers-by, these purse-friendly mummy jar lights look amazing in the dark and can be used year after year.
What you'll need:
How to make:
Attach one end of the bandage to the jar with your glue or tape
Wrap the bandage around the jar, ensuring that the light can still shine through. Fasten the other end of the bandage into place.
Peel the back off your googly eyes and press them onto the fabric.
Switch on your tea light and place it inside the jar.
Repeat using different sized jars to create the ultimate Mummy family!!
We hope you have a seriously spooky Halloween, check out our Halloween section for any more party prep accessories and themed items that you may need! Be sure to share any of your creations with us on our social media: