A smooth autumnal soup, embellished with melting Gruyere cheese. This is delicious served with the pumpkin seed pesto bread.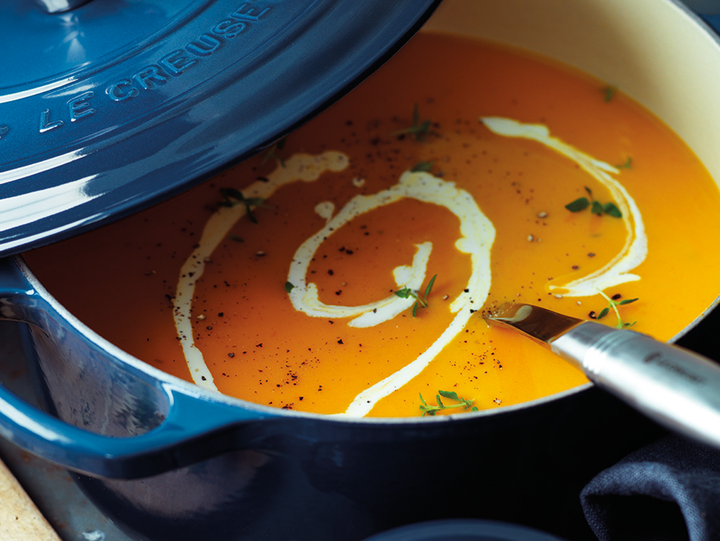 COOK TIME:
Under 2 hrs.
MAIN INGREDIENT:
Vegetables
SERVING SIZE:
6-8
INGREDIENTS
25kg (5lb) piece of pumpkin or squash
3 tablespoons olive oil
70g (2½ oz butter
2 medium onions – chopped
The leaves from 6 sprigs of thyme, plus extra leaves to garnish
75 litres (3pints) light chicken or vegetable stock
300ml (½ pint) double or single cream
150g (5 ½ oz) Gruyere cheese – coarsely grated
Salt and freshly ground black pepper
INSTRUCTIONS
Preheat the oven to 200°C / Fan 180°C / 400°F / Gas Mark 6
Peel the pumpkin or squash, scoop away the fibres and seeds and cut the flesh into chunky pieces. Put them into a large roasting tin with the olive oil and some seasoning and toss together well. Spread them out in an even layer and roast for 30 – 40 minutes until tender.
Meanwhile, melt the butter in the casserole and add the onions, half the thyme leaves and some seasoning. Cover and cook gently for about 10 minutes until the onion is very soft but not browned.
Add the roasted pumpkin to the pan with the stock, cover and simmer gently for 20 minutes.
Leave the soup to cool slightly then blend in a food processor or liquidiser with the rest of the thyme leaves, until smooth. Return the casserole to a medium – low heat and bring back to a gentle simmer. Stir in 200ml (7floz) of the cream and adjust the seasoning to taste.
Ladle the soup into warmed bowls and swirl in the remaining cream. Pile some of the grated cheese into the centre, scatter with the extra thyme leaves and serve.
Cook's Notes
This soup can be made with a variety of squashes or pumpkin. Crown Prince, kabocha and butternut squash are particularly good.
Roasting the squash or pumpkin first enhances its sweet flavour, but you can omit this stage if you are short on time.
Double cream gives a slightly richer finish to the soup and stays on the surface of the soup when drizzled.
Adding warm or hot stock will speed up the simmering process saving time and energy.