For many of us, Easter is a time that takes us back to waking up to a family Easter-Egg hunt, consuming potentially harmful amounts of sugar and maybe finger painting a hard boiled egg or two? No matter what your traditions are, this holiday has probably at some point caught you in the middle of a sticky fingered Cadbury Creme Egg binge; there's no need to feel ashamed, we've all been there. After all, what's not to love about a Creme Egg? They're synonymous with Spring, they're utterly delicious and the fact that they mimic a real egg is just darn adorable.
Here at Silver Mushroom we love Creme Eggs as much as the next person, but there are some people out there, the Creme Eggstrovert's, that always have to take things just a little too far. With recipes ranging from a little "out there" to down right disgusting, no yolk joke. Please prepare yourself, the following recipes may cause intense cravings, or diabetes, it's yet to be determined.
1. Creme Egg Hot Chocolate
Okay, so this one isn't that crazy, it has definitely been done before, think Galaxy, Malteser and so on. We love anything you can eat or drink out of a mug, it takes the comfort factor from 1 to 10 instantly, so this hot chocolate was of course a massive hit in the office, especially with the recent freezing cold weather. Why not amp up the indulgence and make yours in one of our gorgeous Le Creuset Mugs?
Ingredients:
1 cup milk
2 tablespoons + 1 teaspoon powdered sugar
1 tablespoon cocoa powder
1/4 teaspoon salt
5 creme eggs, chopped
1/4 cup heavy whipping cream
Method:
In a medium saucepan, heat milk until hot but do not bring to a boil. Whisk in 2 tablespoons sugar, cocoa powder, salt, and creme eggs and heat until the chocolate melts. Whisk until everything is smooth. Pour into a mug.
In a large bowl, beat together the whipping cream until it thickens. Gradually beat in the remaining 1 teaspoon sugar. Beat until thick and stiff peaks form (when you pull the beaters straight up, peaks will form without falling over). Pipe on top of hot chocolate. Garnish with Creme Egg pieces if you fancy a little more!
2. Creme Egg Croissant
Whats better than a Croissant? A Creme Egg Croissant of course, this recipe is beyond easy and definitely on our list of 'must-trys'.
Ingredients:
2 Croissants
2-3 Creme Eggs
Method:
Simply slice the Croissants length ways and then place the creme eggs, halved, into the croissant.
Wrap loosely in foil and bake at 220°C (200°C fan) mark 7 for 10-15min, until the chocolate has melted.
3. Scotch Creme Egg
This delightful recipe is from the lovely Becca at Amuse Your Bouche, a sweet spin on the classic dish. Unlike the real, or normal, Scotch Eggs, these chocolate ones are actually really easy to make!
Ingredients:
450

g

cooked chocolate brownie, crumbled

3

heaped tbsp vanilla buttercream,

shop-bought or homemade

7

Cadbury Creme Eggs

Chocolate sprinkles for coating
Method:
Mix together in a large bowl the crumbled brownie and the butter cream.
Take a small amount of the brownie mixture and mould it around a Creme Egg, continue until the entire egg is covered
Roll the egg in the chocolate sprinkles & repeat for the other eggs!
4. Creme Egg's & Soldiers
The classic breakfast faces a seriously sweet twist with this super simple recipe from one of our favorite blogs Alana Bread, toffee brioche soldiers and a gooey Creme Egg, we're sold.
Ingredients:
4 Cadbury Creme Eggs
4 slices thick brioche or bread
1 tbs butter
1 cup sugar
Method:
Slice bread/brioche into strips. Heat the butter in a pan and fry strips until beginning to brown. Ensure you rotate the pieces so all sides are evenly charred. Remove from pan and allow to drain on paper towels.
Clean pan, return to heat and melt 1/4 cup of sugar until beginning to caramelise. Add soldiers, remove from heat and rotate once more so all strips are evenly coated. Transfer to parchment paper to cool. Repeat with remaining "naked" soldiers.
Remove tops of Creme Eggs with a knife. Place in egg cup and arrange with brioche soldiers.
5. Creme Egg Toastie
It's no secret that the toastie one of the greatest foods to ever grace this earth, so putting a cream egg on, in or all over it can only make it better right?
Ingredients (per toastie):
2 slices of bread
a knob of butter
one Creme Egg
Method:
Warm up the toastie machine. Cut the Creme Egg into small pieces and microwave for just 10 seconds.
Spread butter on the outsides of both pieces of bread
Place the bottom slice of bread butter side down in the toastie maker, and put the partially melted Creme Egg onto the top
Place the second slice of bread on top, butter side up and press the toaster maker down. Cook until the bread is golden, this should take around 4/5 minutes.
Enjoy!
6. Creme Egg Slutty Brownies
Now, for me personally, this is the creme de la Creme Egg of over indulgent recipes. Slutty Brownies are one of those treats you crave really late at night and can't stop thinking about, like putting your microwave lasagna on a balm cake or when you run out of crackers and you just dip your cheese in butter.. Just me? Anyway, these are definitely worth the bake effort, three of the greatest foods there are all piled on top of one another.
Ingredients:
(For the cookie layer)
225g unsalted butter, softened
100g soft, light brown sugar
300g caster sugar
2 eggs
1tsp vanilla extract
350g self raising flour
150g chocolate chips
14 Creme Eggs, unwrapped
(For the brownie layer)
175g unsalted butter
175g dark chocolate
175g caster sugar
3 large eggs
100g plain flour
Method:
Preheat oven to 170C and prepare a 20×30 brownie tray, or use a disposable tray.

For the cookies, cream the butter and sugars until fluffy, then add the eggs and vanilla and mix. Gently fold in the flour and chocolate chips, then press the dough into the prepared pan in an even layer. Place the creme eggs evenly on top of the cookie dough and set aside.

Melt butter and chocolate together in a large saucepan, add the sugar and stir together. Crack the eggs into a large jug and whisk up, slowly pour the eggs into the chocolate mixing to combine.

Add the flour and stir until the white streaks just dissapear. Pour the brownie mixture over the cookie dough and Creme Eggs making sure everything is covered but your don't over fill the tray. Don't worry if the peaks of your eggs are poking out. Bake for 35 minutes, until just set.
7. Creme Brul'egg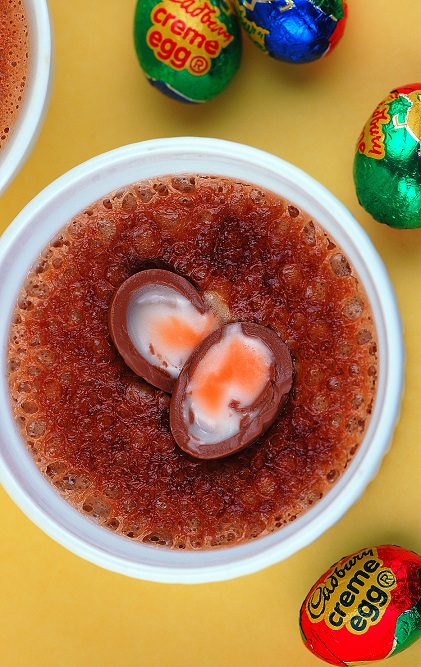 This one doesn't really need an explanation, its creamy, chocolatey and gooey. All the Creme Egginess will be on the bottom of the brul'egg, still so good!
Ingredients:
4 ounces Mini Cadbury Crème Eggs, unwrapped, chopped up
1 cup heavy cream
3 egg yolks, at room temperature
¼ cup granulated sugar
¼ tsp. vanilla extract
Method:
Place the mini Creme Eggs into the bottoms of the ramekins, and place ramekins into a baking dish. Pre-heat oven to 300 degrees.
Mix the cream, sugar and vanilla bean to a simmer together and then steep for 15 minutes. Pour hot cream mixture into the egg yolks whilst mixing very slowly. Once mixed, carefully pour over the Creme Eggs, up to the lip of the ramekins.
Fill the baking dish holding the ramekins with boiling water, about two-thirds of the way up their sides. Cover the tray with foil to keep the tops from overcooking and place in the oven for 40 minutes.
Remove ramekins from dish and place on a cooling rack. Once cool place in the fridge for at least 2 hours.
Cover the tops of the cooled Creme Brul'eggs with an even layer of sugar, keeping a low flame, caramelize the surface until it's a nice golden brown colour.
8. Creme Egg stuffed Donut Holes with Malted Chocolate Fluff Dip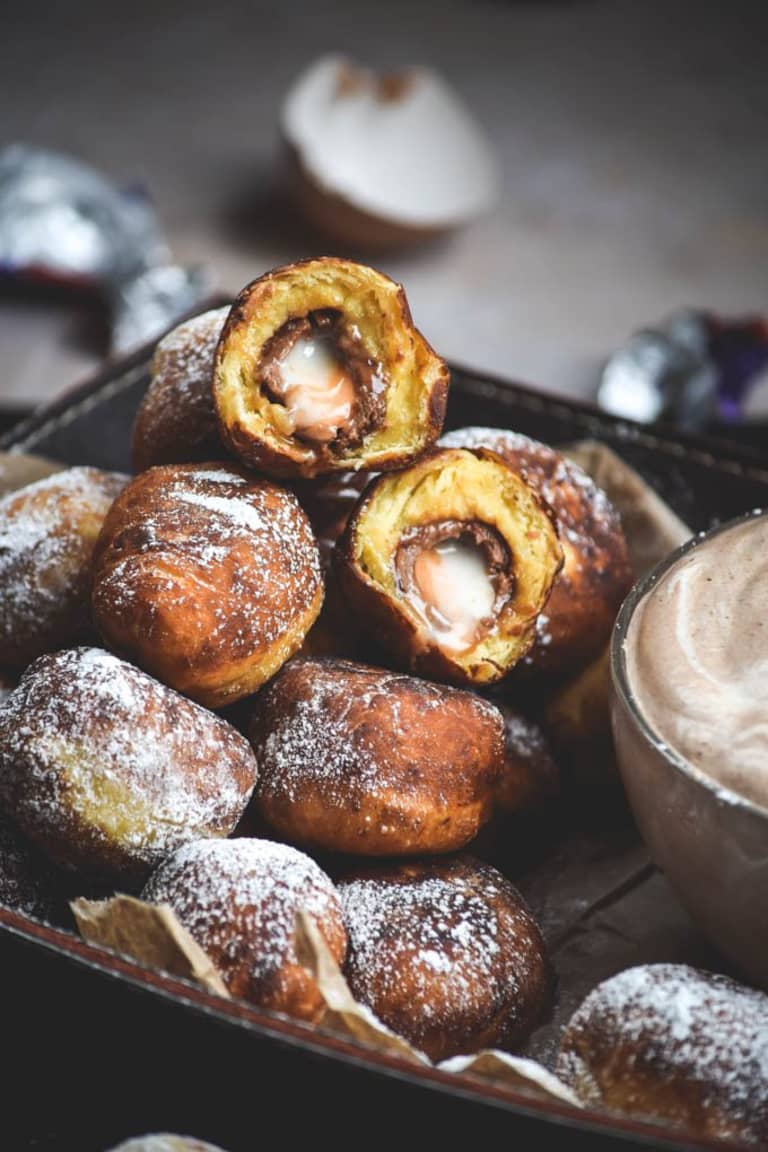 Last but not least, what's better than Creme Egg on its on? Creme Egg Donuts dipped into marshmallow fluff, duh.
Doughnuts:
1 tablespoon active dry yeast
1/3 cup sugar
1 cup slightly warm milk
1 teaspoon salt
3 egg yolks
2 tabespoons butter (melted)
3 – 3 1/2 cups all purpose flour
about 24 mini Cadbury cream eggs
1 quart of frying oil
powdered sugar for dusting (optional)
Marshmallow Fluff:
3 egg whites
3/4 cup sugar
1/2 teaspoon cream of tartar
1/4 teaspoon salt
2 1/2 teaspoons vanilla extract
3 tablespoons malted milk powder
1 1/2 tablespoons cocoa powder
Method:
Doughnuts:
In the bowl of a stand mixer (or a large bowl if doing by hand), dissolve yeast in milk and allow to sit for about 5 minutes until bubbly. Beat in eggs yolks and sugar, then butter and salt until combined. Add flour a cup at a time until it starts to come together into a smooth dough. Turn out onto a lightly floured surface and knead for 4 to 5 minutes until smooth and resilient. Place in a greased bowl, cover with a damp towel or plastic wrap, and place in warm place to rise until doubled in size, about 2 hours. (Alternatively, you can refrigerate the dough overnight.)
Divide the dough into about 24 little balls. Flatten each ball into a disc and place a cream egg in the center. Wrap the dough around the egg and roll between palms to smooth. Place the doughnuts about an inch apart on a tray, then cover tray with pastic and place in a warm place to rise for at least 1 hour (2 or longer is better). This is a good time to make the marshmallow fluff.
Heat about 3 inches of oil in a large high-sided skillet or pot to 350 degrees F (180 C). Gently drop a few balls at a time into oil and fry on each side for 35 to 45 seconds until golden then flip and repeat on the other side. Use tongs or a slotted spoon to gently lift them out and place on a plate lined with paper towels.
Dust in powdered sugar and serve hot.
Marshmallow Fluff:
Whisk egg whites, sugar, and salt in a small saucepan and place over your lowest setting on smallest burner. Stir for 3 to 4 minutes over heat until sugar is dissolved (it should feel smooth and not grainy when rubbed between your fingers). Remove from heat and pour into the bowl of a stand mixer. Allow it to cool for about 5 minutes, then add salt and cream of tartar. Start beating on low speed and increase speed a little after every minute for about 5 minutes. Now turn onto high speed and beat until stiff peaks form, it may take 5 to 10 minutes. Beat in vanilla until combined.
Now sift in malt and cocoa and very gently fold into the fluff as few times as possible until combined (you can even leave it a little bit swirly to avoid smashing your fluff.) Also note that this is best fresh and may seperate after a while.
Serve with doughnuts.