It is officially Friday, the day we have been waiting for all week. Weather you've stuck to your healthy eating all week and need a night off or just simply enjoy the finer things in life, these recipes are all for you. Oh and by 'the finer things in life' we of course mean bread & cheese! These recipes are utterly delicious and a little outside the box but thats what makes a great meal right?
Before we go on, we must tell you about our Sale, with up to 85% off selected lines this really is our biggest ever sale! We highly recommend the following: Pick your favourite of the following recipes, pour your self a glass of wine, put your feet up and browse this unbelievable sale. If that isn't the perfect night in then we really don't know what is.
To make these breads we highly recommend investing in a quality piece of bakeware, there is no better way to crisp up a loaf whilst holding in all its juicy, melty fillings than in a Cast Iron Casserole Dish. With this in mind we've got you 5% off all our casseroles with the bespoke discount code 'ILOVEBREAD', simply enter at the checkout to redeem. Without further ado..
Pull Apart Caprese Bread
This bread actually smells of Italy whilst its baking, it is soft, fluffy, cheesey and light (ish), light enough anyway. This Caprese Bread is utterly delicious and is sure to go down a treat at your next gathering. The recipe is from Gather For Bread, view it here.
Lemon Pull Apart Bread
Something for you sweet-toothed bread lovers, this is sure to get your guests talking. This rustic, fluffy Lemon Bread is baked to perfection with fluffy insides and a crisp caramelised crust! The recipe is from The Vanilla Bean and can be viewed here.
Cranberry Brie Pull Apart Bread
Firstly, please excuse how festive this looks. Yes, brie & cranberry are synonymous with Christmas but they taste delicious all year round, trust us. Sweet, creamy, melty, need we go on? This recipe is from Half baked Harvest and can be viewed here.
Chocolate Cinnamon-Sugar Pull Apart Bread
Sounds like quite a mouthful doesn't it.. Nutella and browned butter are a match made in heaven and should never be one without the other, this beautiful mess of a dessert solidifies that fact for us. This is truly, completely and utterly delicious, created by Indigo Scones you can view the recipe here.
Everything Bagel Pull Apart Bread
What's better than a bagel smothered with cream cheese? Pull apart bagel bread filled with lashings of the stuff, that's what. This pull apart bread is everything a bagel lover could ever dream of, but don't just take our word for it, view the recipe by Your Home Based Mom here.
S'moores Pull Apart Bread
Decadence in a dish, this combination is an all time classic but who would have guessed it could be made even better by stuffing it into a loaf of sour dough! This recipe is from Plain Chicken and can be viewed here.
Cheesy Bacon Pull Apart Bread
Cheesy Bacon Pull-Apart Bread-bread drizzled with garlic butter and stuffed with Gouda, bacon, and green onions. This easy, cheesy bread is from Two Peas and Their Pod, view it here.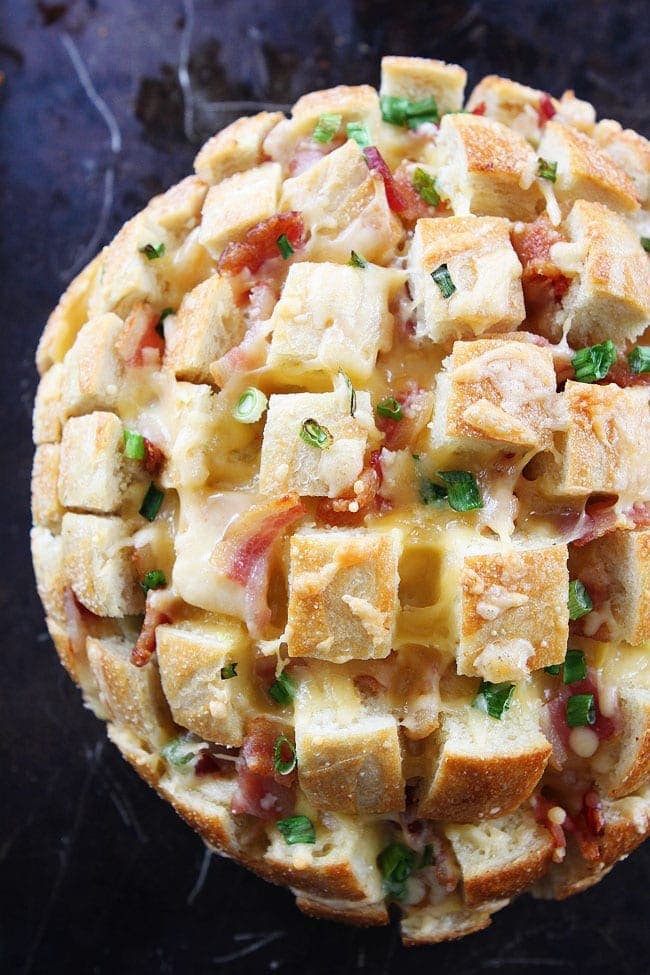 Chocolate Cherry Pull Apart Bread
Cherries and chocolate combine for a delicious pull apart bread made with sweet cherry pie filling and dotted with dark chocolate chunks for a recipe the whole crowd can enjoy. This recipe was created by Gather For Bread, you can view it here.
Pizza Sliders Pull Apart Sliders
Okay, so these may be a little more just 'sliders' rather than pull apart bread, however, they are bread and they are 'pull-apart' and they do look delicious so we figured you wouldn't mind! This recipe is from The Country Cook, you can view it here.
French Onion Soup Pull Apart Bread
There are few things on this earth better than French Onion Soup, one of those things is French Onion Soup Pull Apart Bread. All the delicious cheesyness with all the scrummy flavour of the onions all locked into a big crusty loaf. This is sure to be a hit with your dinner guests, the recipe is from Hunger Thirst play and can be viewed here.