First things first, I'd like to wish you all Happy New Year on behalf of all Mushrooms over at our HQ. With many exciting ideas up our sleeve, we really can't contain our excitement for 2018. We've got all new suppliers, loads of new products and with a re-brand on the cards, prepare for Silver Mushroom domination like you've never seen it before. Our new years resolution as a company is to be bigger and better than ever, and thanks to everybody who follows our social media channels, reads these blogs and shops with us, we are on track to reach our goals!
With a new year comes a fresh start, a chance to reinvent your self and refresh your mind & body. It's common knowledge that the environment you live in, your home, is said to have one of the biggest impacts on your mental state and energy. So one of the best ways to give your self a fresh start is to have a little switch up at home, and everybody knows that the kitchen is the heart of the home, so it makes sense to start there, right? (I promise we're only a little bit biased)
So, if you fancy a change or just a nosey at what is most likely going to be gracing the counter-tops of the rich and famous this year, please keep reading!
1. Mixed Metallics
Last year, copper really stole the show, the Marmite of metals, one might say. We've seen gold, chrome and copper flourish year after year, but what happens when one trend dies? Do you simply box up your old metallics to make room for the latest trend? We think this is a complete waste, why throw out a perfectly good canister set when you can mix things up with a different metal bread bin! The possibilities are endless, chrome taps, copper fittings, gold appliances- you name it, you keep it.
Sticking to just one metal is old news, have fun with your decor and mix up those hues. You'll be bang on the money with this one!
Check out our collection of Mixed Metallics here!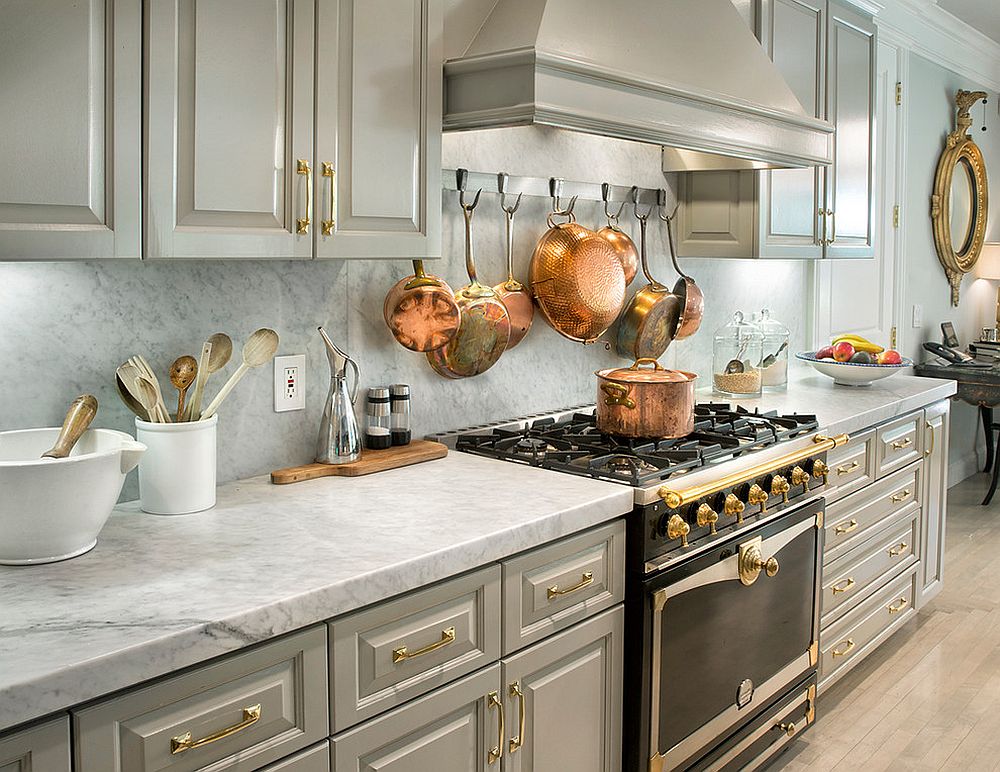 2. Retro Everything
As a nation, we're obsessed with anything and everything that looks vintage, retro or 'tells a story'. Whats more retro than classic enamelware, durable and stylish. Perfect for baking but also decorating, why not use your enamelware as flower vases, utensil holders or absolutely anything and everything you see fit! Shop our retro enamelware here.
3. Statement Tiles
This one has been a long time coming, the statement tile is the perfect way to freshen up your once minimalist home. Whether its a Herringbone splash-back or a Salisbury floor tile this is a fantastic and simple way to add a heap of personality, style and homeliness to your humble abode. The best part about this trend? You can actually DIY your existing tiles, for a link to a simple yet effective method follow this link.
4. Pots & Pans- Colour Accents
Again, this is a brilliant method to drag your self away from that minimalist 'all white' home. If you're guilty of the monochrome trend (I certainly am) then this could be the one for you. Colour is not the enemy, I repeat- not the enemy. It's actually one of the best ways to give your kitchen a brand spanking new look and feel. This trend isn't to paint your walls, floors, ceilings and amenities bright yellow, no no no no. The idea here is to use your statement pots and pans as colour accents, for example, if you have a very plain white kitchen, why not get some Volcanic Orange Pans involved? They give a subtle, cheerful hue to any kitchen. Shop our beautiful Le Creuset Collection here.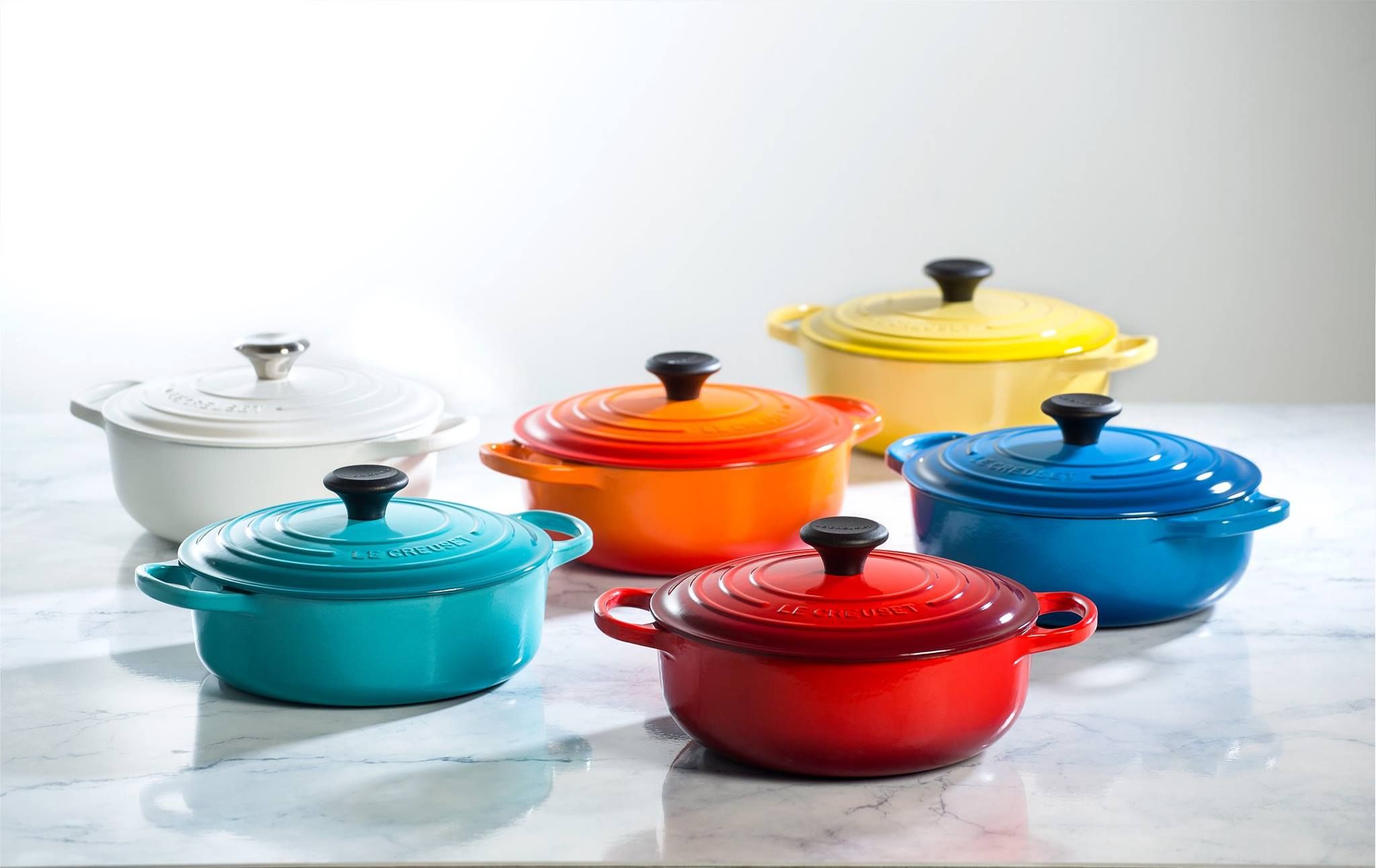 5. Kiss Your Cupboard Goodbye
This couldn't be more on the cards if it tried, drum roll please… The pantry is back, Hallelujah right! There is nothing more chique than eating a home cooked meal in a beautifully decorated kitchen, sat by a pantry displaying the very herbs, spices and ingredients used to make the food you're eating. I'm not talking a barren doorless cupboard, displaying a handful of old garlic cloves and a couple of plastic pots containing something that resembles rosemary. No, if you're going to invest in this trend then you have to give it some wellie, my personal advice would be to pick a theme and stick to it. If you're going to jar your cereals and flours, then jar your herbs and spices as well, if everything is uniform then your pantry will really make a statement. Shop our glass storage jars here.
6. Plants, Plants, Plants
Having some leafy greens dotted around your home has a multitude of benefits, not only do they look fabulous but having plants in your home reduces your carbon footprint, increases concentration and productivity, increases feelings of positivity whilst reducing those of anxiety, anger & stress.
Not only do they benefit your health but house plants can actually act as dehumidifiers, they have a cooling effect on a room and  they give the impression of a spacious, clean interior! Why would you not want to invest in this trend, its good for you, your house and the planet!
We have some gorgeous vases to get you started, shop here.
7.  Tidy House, Tidy Mind
There is nothing worse than coming home to a messy kitchen, old dirty dishes on the side, shoes scattered about the floor, crumbs on the counter tops. We're all guilty of leaving our kitchens a little too lived in from time to time, but 2018 is the year to put a stop to this. Get your kitchen as organised as possible, and keep it that way, you'll be amazed at how clear your head will feel!
One of our new favourite ways to stay organised around the house is to use our state of the art wiring solution- the EVOline Plug. Nothing looks messier than 'spaghetti junction' wires coming out from each and every appliance, ugly extension cables and big plastic plugs all over the show. Evoline hides unwanted cabling at the touch of a button, available in a range of colours, to match any kitchen.
8. Light It Up
Why buy beautiful pots, pans and crockery just to hide them in a dark and dingy dungeon-kitchen? Any designer will tell you that natural light is God's gift and it's absolutely vital for a fresh and healthy feeling home. Opt for warmer tones for a cosier 'homely' feel, or cooler tones for a more clinical feel, whatever you decide, work around your natural light. Make a feature out of you're chosen lighting, weather its ceiling lights, wall lamps or candles! Hanging bulbs have been a big hit over the last few years, and it looks like they're here to stay!
We hope this blog has given you a little home/kitchen inspiration for the New Year! If you follow any of these tips be sure to share them with us on our social media channels, we'd love to see what you come up with. Happy New Year everybody!