Don't be left scared when your guests arrive to your Halloween bash and you've only got plain old beverages to present to them. Take a look at this selection of our favourite spooktacular Cocktail and Cupcake recipes, perfect to serve at a party or to give to trick or treaters! Thats just the cupcakes by the way, I'm not encouraging that you give out alcoholic beverages, or I might get in some serious trouble. So, here you have it, the scariest (and coolest) collection of recipes, perfect for Halloween!
1) Eerie Eye-Ball Pops
This recipe is fantastic for kids, and adults alike! They're, fun, effective and so easy to make; a great Halloween activity.
Ingredients:
100g/4oz Madeira cake
100g Oreo cookie
100g bar milk chocolate, melted
200g bar white chocolate, melted
few Smarties and icing pens, to decorate
10 wooden skewer
Method:
Break the Madeira cake and cookies into the bowl of a food processor, pour in the melted milk chocolate and whizz to combine.
Tip the mixture into a bowl, then use your hands to roll into about 10 walnut-sized balls. Chill for 2 hrs until really firm.
Push a skewer into each ball, then carefully spoon the white chocolate over the cake balls to completely cover. Stand the cake pops in the pumpkin, then press a Smartie onto the surface while wet. Chill again until the chocolate has set. Before serving, using the icing pens, add a pupil to each Smartie and wiggly red veins to the eyeballs.
2) Bloody Glass Cupcakes
These bloody, Dexter style cupcakes will go down a treat this Halloween. Just be careful of the shards of glass!
Ingredients:
1 Can white frosting
1 Box Red Velvet Cake Mix
2 cups water
1 cup light corn syrup
3 1/2 cups white sugar
1/4 teaspoon cream of tartar
1/2 cup light corn syrup
1 tablespoon cornstarch
1/4 cup water, or more as needed
15 drops red food colouring
3 drops blue food colouring
Method:
Prepare the red velvet cupcakes, why not try this recipe?
To make the Sugar Glass, mix 2 cups water, 1 cup corn syrup, white sugar, and cream of tartar in a large saucepan; bring to a boil.
Use a candy thermometer and boil sugar syrup until temperature reaches 300 degrees (hard ball), stirring constantly. The mixture will thicken as water evaporates. When sugar reaches 300 degrees, quickly pour onto a metal baking pan.
Cool until completely hardened. Break into "shards" using a meat mallet.
To make the edible blood, mix together 1/2 cup corn syrup and cornstarch in a large bowl.
Slowly stir in the 1/4 cup of water, adding more if necessary, until the corn syrup mixture has thickened to the consistency of blood.
Stir in the red and blue food colouring.
Stab each frosted cupcake with a few shards of broken sugar glass.
Drizzle on drops of "blood" to complete the effect.
3) Broomstick Cupcake Toppers
This recipe is a little more 'arts & crafts-y' than the other ones, however, if you can handle a glue stick and some scissors then you should be good to go! This is a great activity to do with children, and its totally customisable, use any cupcake recipe that takes your fancy!
What you'll need:
Cupcakes of your choice, this is my favourite recipe.. Perfect for halloween, these pumpkin and cream cheese cupcakes are perfect for Halloween!
1 piece of Corrugated Kraft Cardstock (purchased from Michaels)
Some grey/white twine
Kraft Paper with "Broomstick Parking Only" Printed on it
Black & Orange Striped Straws, cut to the desired broomstick length
Design your own little "Broomstick parking Only" cards, print & cut them out, or hand write your own. Here's where things get really creative!
How to make them:
Cut strips of the corrugated kraft card stock 1 3/4 in. wide by 4 in. long.
Using scissors, cut very narrow strips about 2/3 of the way of each strip on the long side to make them have a frayed effect.
Cut your Black and white straws 4 in. each or in half. Place a small dab of glue at one end of the card stock and glue the straw to it.
Roll up your strip of frayed card stock with the straw glued in. When you reach the end, place another dab of glue to secure the card stock.
Take a length of twine long enough to tie around the cardstock towards the top portion of the card stock that is not frayed. Pull it tight enough that the bottom ends of the broom start to poke out. Cut left over strings.
Using your hands, Ruffle out the end of the bottom portion of the broom that you just frayed.
Place them on your cupcakes and you're ready to go!
4) Spooky Boo Brownies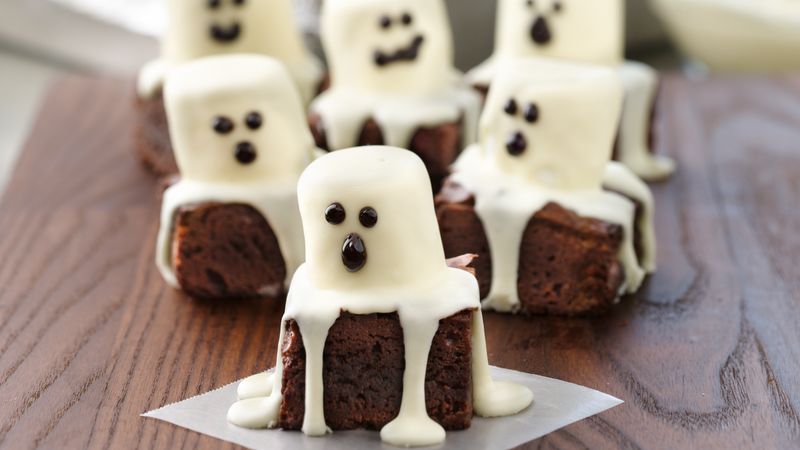 Whats better than a brownie? Well, the only thing we can think of is a Halloween brownie with a really cute scary ghost sitting on it! This is our absolute favourite halloween recipe, it ticks all the boxes, we love you Betty Crocker.
Ingredients:
1 box (1 lb 6.25 oz) Betty Crocker™ Supreme original brownie mix
Water, vegetable oil and eggs called for on brownie mix box
1 1/4 cups Betty Crocker™ Rich & Creamy creamy white frosting (from 16-oz container)
16 large marshmallows
Betty Crocker™ black decorating gel (from 0.68-oz tube)
Method:
Heat oven to 350°F (325°F for dark or nonstick pan). Line 8- or 9-inch square pan with foil so foil extends about 2 inches over sides of pan. Spray foil with cooking spray.
Make brownies as directed on box for 8- or 9-inch square pan. Cool completely, about 1 1/2 hours. Remove from pan by lifting foil; peel foil away. For brownies, cut into 4 rows by 4 rows.
Heat frosting in microwavable bowl uncovered on High 30 seconds, stirring every 10 seconds, until frosting can be stirred smooth and fluid. If frosting becomes too firm while decorating, microwave 5 seconds; stir.
Top each brownie with 1 large marshmallow. Spoon 1 tablespoon frosting over each marshmallow to coat. Let stand until frosting is set, about 30 minutes. Use black gel to make eyes and mouths.
5) Paranormal Activity (Cocktail)
This truly is drink-art if ever we've seen it. Wow, your friends, with this creepy cocktail; be warned though, after one or two glasses of paranormal activity, your guests may actually start to believe theres a demon in their drink…
Ingredients:
1 part Lucid Absinthe
1 part white crème de cacao liqueur
1 part coconut milk
Drizzle of black Sambuca
Method:
Combine the absinthe, crème de cacao, and coconut milk in a cocktail shaker filled with ice.
Shake until frothy.
Strain into a rocks glass over fresh ice.
Drizzle black sambuca down the side of the glass until it floats on the bottom and diffuses into the cocktail.
6) Vampire's Blood Bomb's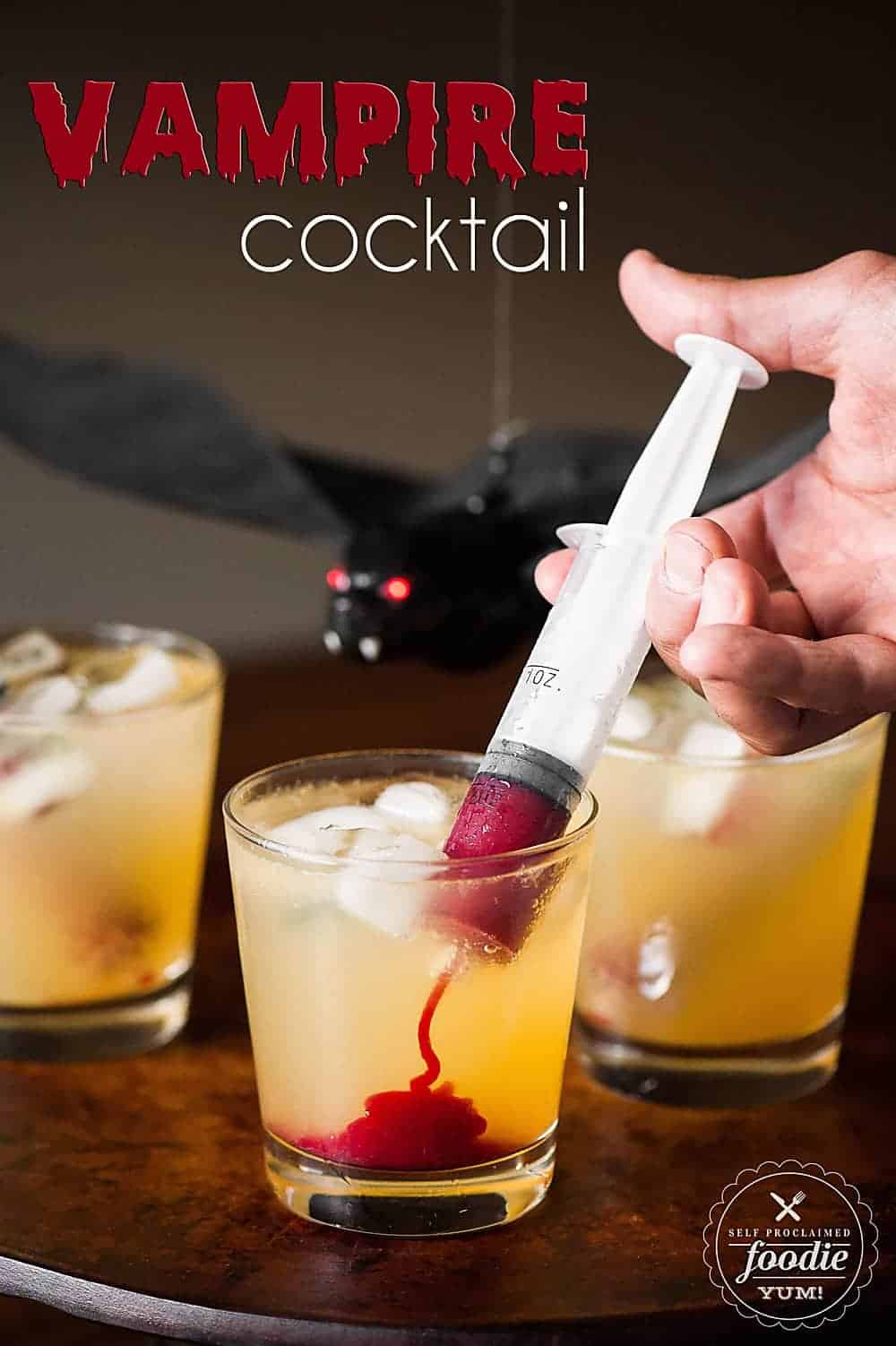 Why is a vampire a good person to take out for meals? Because he eats necks to nothing. Get it?
Don't be fooled by the goriness of this cocktail, we promise it will go down a treat.
Ingredients:
2 cups raspberries
1/4 cup sugar
4 ounces vodka
2 ounces amaretto
2 ounces orange juice
6 ounces club soda
4 plastic syringes
Method:
Puree the raspberries in a blender or food processor. Press the puree through a fine mesh strainer to separate the pulp from the seeds. Discard the seeds.
Combine the puree with the sugar in a small saucepan over medium high heat. Stir frequently and cook until mixture darkens and thickens, about 10 minutes. Chill until ready to use.
Add vodka and amaretto to a shaker with ice and shake until very cold, about 20 seconds. Stir in orange juice and club soda. Pour into iced glasses.
Fill syringes with equal parts of the raspberry syrup and place in glasses before serving.
7) Caramel Apple Cocktail
Why bob for apples when you can sip on them? This caramel apple cocktail is perfect for Halloween, its nostalgic sweetness is sure to go down a treat, and as it can be served hot or cold, its perfect for this nippy weather.
Ingredients:
2 ounces apple juice
2 ounces caramel vodka
1 ounce butterscotch liqueur
ice
caramel sauce
turbinado sugar
apple slices for garnish
Method:
Place caramel sauce in a flat-bottomed, shallow bowl. Dip the rim of a cocktail glass in caramel sauce and then in turbinado sugar. Set aside.
Place apple juice, caramel vodka, and butterscotch liqueur in a cocktail shaker filled 2/3 with ice. Shake until jet cold (about 20 seconds). Strain the cocktail into the cocktail glass.
Garnish with a fresh apple slice on the side of the glass and serve (Image 1).
Note: For a warm cocktail: Heat the apple juice to a simmer. Place the caramel vodka and butterscotch liqueur in the prepared glass. Pour the hot apple juice in the glass and garnish with a fresh apple slice to serve.
8) Bloody Brain Shooters

Combine your inner mad scientist with your inner shooter and concoct this Bloody Brain treat, be warned this is not for the faint hearted or squeamish. Mixing acidic lime juice and Irish cream causes the cream to curdle, creating brain-like strands in the shot.
Ingredients:
40ml strawberry vodka such as Stoli
4ml Rose's lime juice
8ml Bailey's Irish Cream
Splash of grenadine
Method:
Chill vodka for better smoothness. Add vodka and lime juice to a shaker, shake and strain into a shot glass.
Using a straw, dip some Bailey's Irish Cream into the shot. Once you submerge the straw into the Bailey's put your finger on top of the straw to hold the Bailey's in the straw. Dip the straw tip into the vodka and slowly release your top finger. The Bailey's will curdle a little bit due to the lime juice and you should be able to make strands of Bailey's.
Repeat the straw/Bailey's process to build a "brain" in the shot glass.
Add a splash of grenadine to the concoction to add the 'blood' to the mix. Down the hatch as a shot.