I begin this blog with a challenge for you- find me a person who doesn't enjoy a BBQ.. It's just not possible. Be they vegetarian, vegan or just plain picky, the simple idea of the BBQ is enough to put a smile on anybody's face. The thought of a lazy afternoon, spent in a loved ones garden with summery cocktails, brilliant company and a herd of men gathered around the sizzling BBQ brings me a lot of joy. They are the essence of Summer to me (BBQ's, not men.), although I wouldn't have to be told twice to BBQ in the winter, there is something about BBQ'd food that just makes it taste ten-million times better than any other cooking method that exists.
It is that fact, paired with my over-the-top obsession with all foods of any and every kind that has led me to get a little too adventurous with my BBQ. I know that may sound a little weird, but hear me out, in my house the rule is, if you can eat it- you can BBQ it. It began with me BBQing appetisers, like a bbq'd-prawn cocktail, or grilled garlic-mushrooms; nothing too out there. I then decided to try something new, and let me tell you, this discovery was more thrilling to me than Isaac Newton discovering gravity.. It is possible to make practically ANY dessert on the BBQ, ANY! Not only is this possibly the most novel idea the world has ever conjured up, but they also taste incredible, it really is almost to good to be true.
I digress, these BBQ desserts are an absolute show stopper and are sure to get your guests cooing and begging for 2nd's and 3rd's. So without further ado, behold The Top 8 BBQ Desert Recipes of All Time!
1) BBQ'd Banana Boats
This recipe is from Taste of Home and is super simple to make, perfect for a light yet delicious dessert. This is also a great camping recipe as it only requires 3 ingredients! This recipe yields 4 servings.
Ingredients:
4 medium unpeeled ripe bananas

4 teaspoons miniature chocolate chips

4 tablespoons miniature marshmallows
Method:
Slice the banana peel lengthwise, about 1/2 inch deep, leaving 1/2 inch at both ends.
Peel the banana open wider to form a pocket, fill this pocket with 1 teaspoon of chocolate chips and 1 teaspoon of mini marshmallows.
Form & shape four pieces of tin foil to make a boat for each banana.
BBQ the banana boats on a medium heat for 5-10 minutes, until the marshmallows melt and are golden brown. Serve immediately!
2) BBQ'd Doughnuts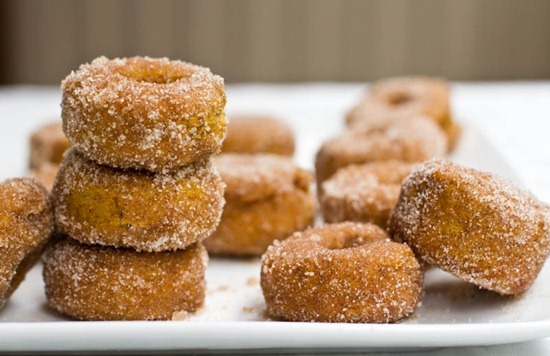 This recipe is pure genius, as if doughnuts aren't already the perfect desert, sticking them onto the grill gives them an extra sweet crunchy exterior, fluffy warm middle and with a hint of smokey char. They really are the dream! You can add anything you like to this recipe, ice-cream, cream, fruit, nuts, you name it; these BBQ'd doughnuts are a sure show-stopper. This recipe is from the wonderful Yummy Mummy Club, and again, is super easy with minimal ingredients!
Ingredients:
6 plain glazed donuts
2 tbsp sugar
1 pint vanilla ice cream/ whipped cream
1 cup of strawberries
Method:
First of all, spread the sugar out onto a plate and press each side of the doughnuts into the sugar to coat them.
Place the doughnuts onto the BBQ on a highest, until the sugar bubbles and scorches. This should take about 2 minutes per side.
This is where you can get creative, serve with a scoop of ice-cream or fresh whipped-cream and scatter with strawberries. Serve immediately!
3) BBQ Pound Cake Skewers
Grilled fruit is possibly the most underrated food on the planet, the sweetness from the fruit pairs perfectly with the smokey flavour the BBQ gives it; just dreamy! What goes better with fruit than pound cake? BBQ'd pound cake, of course. This recipe is from Betsylife and again, is very simple to make (Noticing a reoccurring theme yet?). You can either bake your own pound cake or buy one, this recipe is perfect if you're looking to get a little more creative.
Ingredients:
1 cup of sliced Strawberries
1 cup diced Pineapple
1 Loaf of pound cake
Whipped cream
Method:
Chop the fruit and pound cake into even sized cubes.
Thread alternating pieces of fruit and cake onto BBQ skewers and BBQ on a medium high heat, turning occasionally. This should take around 6-8 minutes. The fruit should be slightly charred and the cake toasted.
Serve immediately with whipped cream.
4) Grilled Pumpkin Pie with Smoked Ginger Snap Crust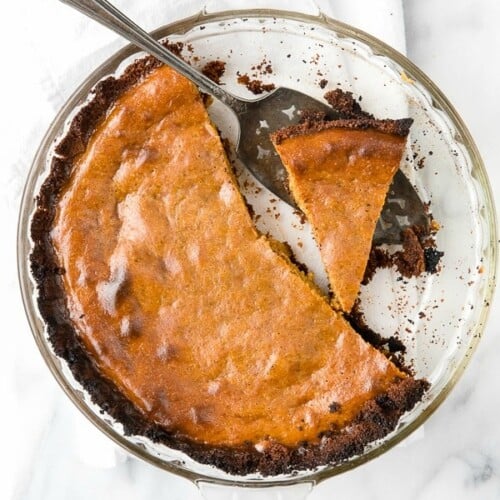 This recipe is kicking things up a notch on the BBQ baking scale, however, if you want to create something truly astounding, this is the dessert for you. Everybody loves Pumpkin Pie, so why not add a summery twist on this all time classic and incorporate some new flavours! This wonderful recipe is from Boulder Locavoure where the 'smoking' process is fully explained and detailed.
Ingredients
6

ounces

of Ginger Snaps

(regular or gluten-free); approximately 25 cookies

2

tablespoon

Light Brown Sugar

4

tablespoons

Unsalted Butter

, melted

1 15-

ounce

can Pumpkin Puree

(not pie filling); homemade pumpkin puree may be substituted

1 14-

ounce

can Sweetened Condensed Milk

1

teaspoon

ground Cinnamon

½

teaspoon

ground Ginger

½

teaspoon

Nutmeg

(freshly grated if possible)

½

teaspoon

ground Cloves

2

Eggs

, lightly beaten
Equipment:
1

handful hickory wood chips

Heavy duty foil

, heatproof pan

9-

inch

6 cup pie pan

Baking sheet
Method:
With the BBQ set up for indirect grilling with medium heat (350 degrees), place the hickory wood chips on a small piece of heavy duty foil (on the heated side of the grill). Once the wood chips begin to smoke place the ginger snaps in a heatproof pan on the non-fire side of the grill. Allow to smoke for 10 minutes with the lid on/down; remove and allow to cool until ginger snaps are hard again (about 10 minutes).

Combine the smoked ginger snaps, brown sugar and melted butter in a food processor and process into moist crumbs. Spoon the crumbs into a 9-inch (6 cup capacity) pie pan and press the crumbs into the bottom and sides of the pie pan to form the crust.

Return the crust to the grill on a baking sheet for easier handling and allow the crust to cook over indirect medium heat (350 degrees) for 10 minutes. Remove and allow to cool slightly (about 10-15 minutes).

While the crust is cooling, prepare the filling. In a large mixing bowl whisk together the pumpkin puree, sweetened condensed milk, and spices until fully combined. Add the eggs and whisk into the pumpkin mixture. Pour the filling into the crust.

Place a pie crust protector or piece of foil around the exposed crust (the edge of the pie pan) to prevent darkening. Return the pie to the grill (still on a baking sheet) to cook indirectly for 60 minutes or until a knife inserted an inch into the center of the pie comes out clean. Note: should the pie begin to develop darkened spots, tent the pie with a piece of heavy foil. Once the pie has cooked fully, allow it to cool on a rack before cutting and serving.
5) BBQ Pineapple with Honey & Cinnamon Drizzle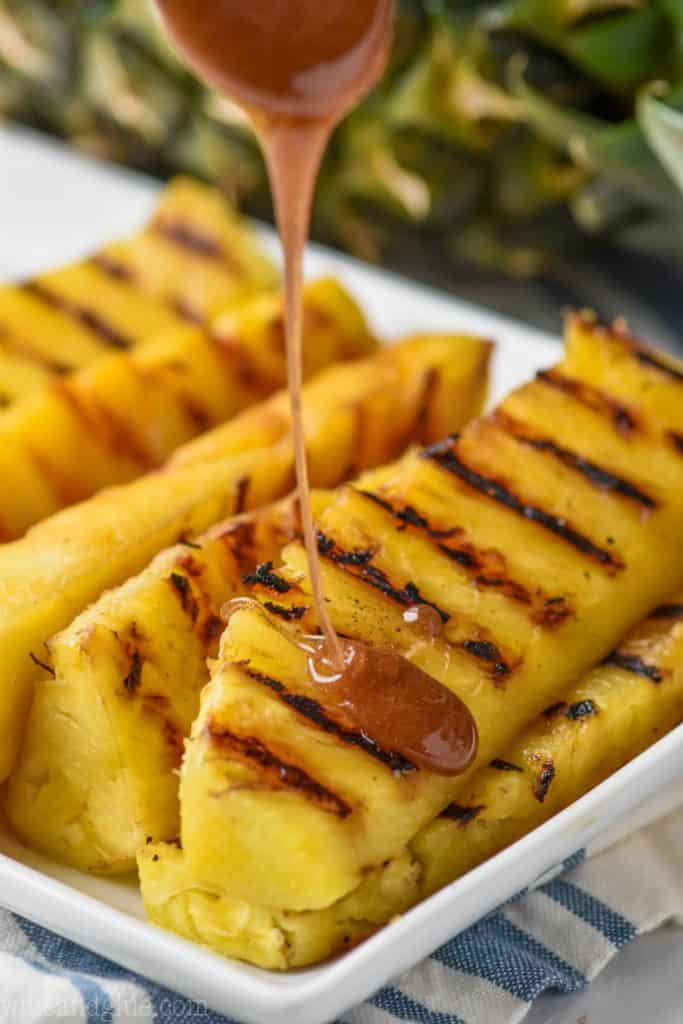 If you've ever been to a Brazilian restaurant, this concept with not be new to you. This recipe is beyond simple and overly delicious, its fuss free and relatively healthy (as healthy as good desserts get anyway!) This idea comes from Wine & Glue, its very quick and simple to make!
Ingredients:
1/2 cup honey
1 tsp cinnamon
1 pineapple
Method:
Grill pineapple slices over medium heat for 5 to 10 minutes.
While the pineapple is grilling, mix together the honey (softened in the microwave for about 30 seconds) and the cinnamon.
Drizzle the grilled pineapple with the honey and serve.
6) BBQ Cookie-S'mores
Smores are an all-time campfire classic, gooey-marshmallow and melty-chocolate with a warm crunchy cracker; doesn't get much better? Yes it does! This recipe from The Food Network takes the classic S'more recipe and raises it two cookies, and some smokey BBQ char. This one is perfect to make with children, loved by everybody!
Ingredients:
3 bananas
10 store-bought chocolate chip cookies (the larger the better)
150g digestive biscuit crumbs
60g small marshmallows
150g chocolate chips
Method:
1) Preheat barbecue to medium-high heat. Brush with vegetable oil.
2) Cut the bananas in half, lengthwise and grill, skin side down just until warm. Remove warmed banana from the skin and cut again in half.
3) For assembly:
On a piece of aluminum foil, place 1 cookie. Top evenly with banana slices, marshmallows, chocolate chips, digestive biscuit crumbs and top with another cookie. Wrap foil around the sandwich and place on the grill until warmed through and melted. This should only take a few minutes, serve immediately!
7) BBQ Smokey Apple Strudel
Apple Strudel is one of those deserts that we somehow always seem to have room for, no matter how fun we are. It's light and irresistible and cant get any better; until now! BBQ'ing the strudel gives the outer pastry a lovely crisp texture and the warm apples hint at the charred flavours. This recipe is from the BBQ Gods over at Webber.
Ingredients:
1 packet of ready rolled puff pastry (320g)
3 apples
9 tbsp apple compote
Method:
Wash and core the apples and cut into thin wedges approx. 1 cm thick.
Mix the apple compote with the fresh apple and spread on one of the circles of puff pastry, leaving an approx. 1 cm border around the edge. Put the other puff pastry circle on as a lid and press the edges together gently with a fork.
Prepare the barbecue for direct heat – approx. 185 °C.  Put the waffle and sandwich iron in the GBS® grate and preheat for 5-8 minutes.
Place the apple strudel on the sandwich side of the iron and close. Leave to bake for 10-15 minutes.
Flip the iron and bake the other side for 10-15 minutes, or until both sides are golden. Serve immediately with crème fraîche, lightly whipped cream or powdered sugar!
8) BBQ Figs with Walnuts & Honey-Mascarpone Ice Cream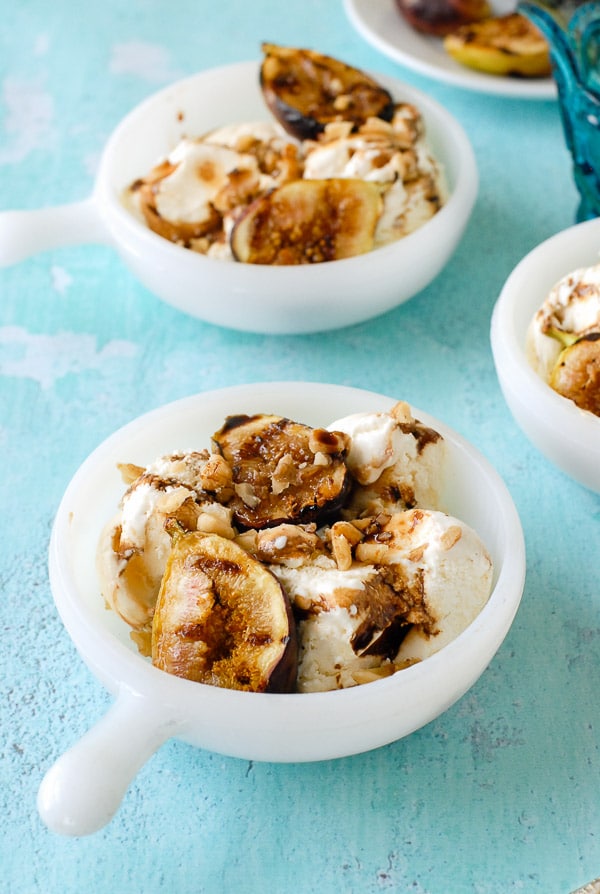 This recipe is an absolute show stopper, and perfect for anybody with a sweet tooth. This recipe is from Boulder Locavore again, and we can't get enough of it!
Ingredients:
½

cup

aged Balsamic Vinegar

1 1/2

cup

Half and Half

8

ounces

Mascarpone Cheese

½

cup

Honey

1

tablespoon

Lemon Juice

1/8

teaspoon

Kosher Salt

Figs

(1 per planned serving), ripe but firm

Olive Oil for basting figs before grilling

Walnuts

, chopped (1-2 tablespoons per serving)
Method:
Place the balsamic vinegar in a small sauce pan over medium-low heat. Bring to a high simmer, stirring constantly, until reduced to 3 tablespoons (check frequently so the vinegar does reduce more than desired). Place balsamic reduction in a small container in the refrigerator to cool.

In a blender combine the half and half, mascarpone cheese, honey, lemon juice and salt. Blend to combine.

Pour mixture into a prepared ice cream maker and process to manufacturer's directions.

Select a freezer-safe container to store the ice cream. Note: the balsamic reduction is strongly flavored and very little is needed. You will drizzle approximately two tablespoons throughout the ice cream (method following) which is ample and leaves around a tablespoon to drizzle on finished servings. Very slowly drizzle a very small stream of the balsamic reduction into the bottom of the container.

Spoon finished ice cream onto the balsamic reduction and drizzle more on top of the ice cream. Continue until all the ice cream is in the container and the balsamic reduction is interwoven through the ice cream. Cover and place ice cream in the freezer overnight. Refrigerate the remaining balsamic reduction in a sealed container.

To grill the figs (should be done just before serving): heat gas grill to 350 degrees. Clean and oil the grill. Cut figs in half lengthwise and paste the inside with olive oil.

Place figs on heated grill face down just until grill marks form (approximately 2 minutes; less time for small sized figs). Turn over and grill on the outside for 1 minute. Figs should be seared but not overly soft.

Remove and allow to sit five minutes. While the figs rest, scoop out ice cream portions into serving dishes. Sprinkle with 1-2 tablespoons of chopped walnuts. Place two fig halves on each portion and drizzle with a very small amount of the balsamic reduction.
I hope you feel inspired to get creative at your next shin-dig and try one of these recipes! If you do, be sure to share a photo to our Facebook page. Happy BBQ'ing!